I agree, not all Canadian sibes are bred for it. Heres some info about the actors in the movie, many played in other movies before.
There were 36 dogs in the movie playing 8 parts.Arctic sun siberians provided several dogs for 8 below, snow dogs, and the new Disney movie, they are from from Canada. 4 dogs from 2 breeders in Somerset PA.
Some of the Alaskan malamutes came from rescues, 2 originated from Tennesse, from Chatanooga (a puppymill), and a homeless sickly malamute from the streets of Knoxville, Nikki and Troika, played parts and doubled.
Below are a list of the parts and some of the actors who played them of the 36.
Buck
The spirited, red-headed Buck comes to life through the work of the cast's quickest learner, Conan, and Flapjack, a strapping six year-old, who is also the biggest dog in the movie, weighing in at over 120 pounds. Conan and Flapjack performed both the acting and sledding for Buck.
Dewey
One of the close-knit twins in the pack, is portrayed by four-year-old Floyd, a veteran pro who, when not starring in movies such as Snow Dogs, is one of the regulars at the Universal Animal Show in Florida. Dewey hurt himself and eventually died after falling down the snow cliff jumping at the Aurora australis. His sledding double was two-year-old Ryan. Dewey can be told from Truman by a scar over his left eye, given to him by his aforementioned brother.
Maya
The strong and maternal Alpha leader of the pack is played by seven year-old Koda Bear, star of such films as Snow Dogs. She is known to her trainers as The Princess due to the fact that she has her own entourage and will not go anywhere without her special blanket. She was almost passed up for the part because the filmmakers originally wanted a white dog, but she won over the filmmakers and became one of Frank Marshall's favorites. Also starring as Maya is the equally beautiful seven-year-old Jasmine, who always gets very serious whenever she is playing a film role. Their sledding double was Kalista, herself a long time Alpha sled dog; like her character, she helped to keep all the other dogs out of trouble during the filming. She is also a Siberian Husky. Maya in this movie is the owner's little girl. He loves her like she is a real human being.
Max
The young sled-dog who starts out in the back of the pack but becomes a heroic leader in the course of the incredible adventures of Eight Below is played by six-year-old D.J., a playful, happy-go-lucky natural born movie star who previously starred in the canine hit Snow Dogs. D.J. impressed his trainers and director Frank Marshall with his uncanny improvisational skills and always brought an extra dash of drama to his scenes as Max. D.J's sledding double is one-year-old Timba, who was an on-set favorite due to an exceptionally cuddly nature.
Old Jack
The oldest dog in the pack, Old Jack is played by a relative youngster, four-year-old Apache. Apache developed a particular love of helicopter rides during the making of Eight Below. The Poker scene was done by Suli, a kennel mate of Apache. Some of Old Jack's sledding work was performed by Buck, an all-white dog previously seen in Snow Dogs, who underwent a dye job to match Apache. Old Jack died right on the base where their trainer and friends lived.
Shadow
Starring as the silvery, sleek Shadow, Noble, a three-year-old canine actor known for really getting into character, and four-year-old Troika, famous for her beautiful howling voice. Both did all the acting and all the sledding for their roles. Troika was a stray on the streets of Knoxville, TN. He was found by animal control emaciated and neglected and taken to Knox Co Animal Welfare Center. Sleddog Rescue of Tennessee assumed the responsibility for housing Troika and nursed him back to health for adoption. Troika was unwanted, unloved, and neglected as he wandered the streets of Knoxville scrounging for a skimpy meal. He was battling parasites and malnutrition. It was due to the dedication of Sleddog rescue that Troika was able to regain his health and be scouted by (a website) to become a canine star in this Disney film.
Shorty
The all-brawn-and-too-few-brains rebel dog, Shorty, is played by equally playful, all-white, three-year-old Jasper, who was especially excited to star in Eight Below because he quickly discovered snow is his favorite thing in the world. Jasper's sledding double was the tenacious Yukon, who never seemed to tire of pulling the sled.
Truman
Truman, Dewey's identical brother, is portrayed by three-year-old Sitka, whose favorite things in life include slices of Canadian Duck and frequent belly rubs. Her sledding and action double was five-year-old Chase, known to the trainers as the big goof ball. Chase graciously underwent a regular dye job to look more like Sitka.
Below Apache, Old Jack.
These pictures were taken during the movie Snow Dogs I think, the same dogs were playing parts in both movies.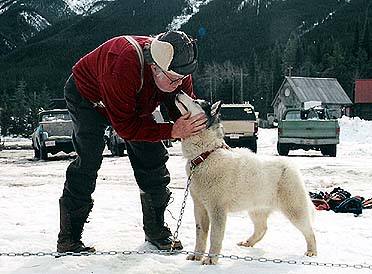 Apache, Polar and Surge all played parts in movies.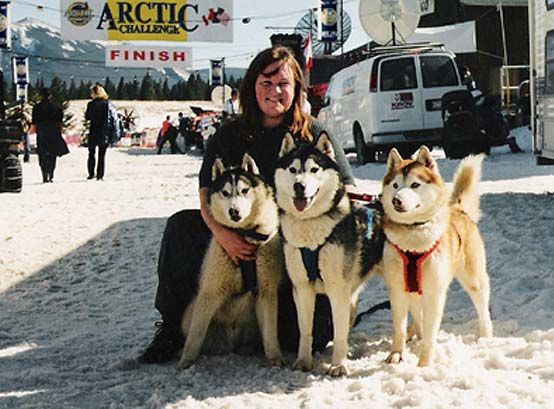 From 8 below.